The Gold Coast is approximately 80 kms south of Brisbane and 950 kms north of Sydney.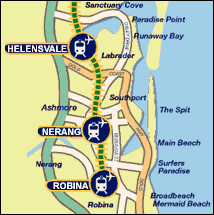 Getting To The Gold Coast By Bus/Coach
There are a number of coach services that pass through the Gold Coast. There are regular services from Brisbane, Byron Bay, Sydney and other major centres. There are bus transit centres in Coolangatta, Surfers Paradise and Southport. Travel time from Brisbane is around 1½ hours and from Sydney, an express coach service takes around 14 hours.
Getting To The Gold Coast By Train
The Gold Coast is connected by rail to Brisbane's Roma Street and Central stations. The closest railway stations servicing the Gold Coast include Nerang, Helensvale and Robina – there are connecting shuttle bus services available from the station to Surfers Paradise and other Gold Coast centres. Airtrain also operates regular rail services from Brisbane Airport to the Gold Coast which take approximately 90 minutes.
Due to a difference in the gauge of the railway between New South Wales and Queensland, there are no Interstate direct rail links to the Gold Coast. Trains depart daily from Sydney and terminate at Murwillumbah (around 30 mins south of Coolangatta).
Getting To The Gold Coast By Air
The Gold Coast Airport at Coolangatta is serviced by domestic and international flights. Most services are one-class, but many also offer business class travel. There are regular daily domestic flights from Sydney, Melbourne, and Adelaide & there are connecting flights to all other Australian cities. The trip from Sydney takes around 1 hour 25 minutes, around 2 hours 15 minutes from Melbourne & around 2 hours and 10 minutes from Adelaide.
International flights arrive from Auckland, Hamilton, Dunedin, Palmerston North & Christchurch in New Zealand. There are also flights arriving on the Gold Coast via Cairns from Japan (Osaka, Nagoya &Fukuoka), Taipei, Hong Kong & Singapore. Brisbane's International Airport also provides links with the USA and Europe.
Self Drive
The major route from Sydney to the Gold Coast is via the Pacific H'way which is currently undergoing major upgrades and conditions vary. Use the following table to plan your trip and ensure that you "stop, revive, survive" every 2 hours.
| | | | | |
| --- | --- | --- | --- | --- |
| Gold Coast to | | Distance in Kms | | Driving Time |
| Sydney | | 947 | | 11 hr and 25 minutes |
| Canberra | | 1251 | | 15 hrs |
| Melbourne | | 1840 | | 22 hrs and 10 minutes |
| Brisbane | | 80 | | 1 hr |
Related Links:
Gold Coast Accommodation – A comprehensive guide to accommodation on Australia's Gold Coast including hotels, motels, resorts, self-contained apartments and holiday units.
Gold Coast Visitor Information – This section of the website provides general visitor and tourist information about the Gold Coast including links to more information.
Gold Coast History – A brief look at the Gold Coast's colourful history from a no go zone in 1874 to a popular vacation resort area of international standards today.
Public & School holiday dates – An accurate and up to date ready reference for dates of Public and School Holidays/vacations in Australia.