Natural Bridge (Arch) – Springbrook National Park
Natural Bridge is one of the most popular parts of 2954ha Springbrook National Park.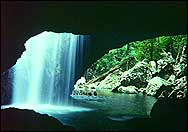 Natural Bridge (also called Natural Arch) nestles in the scenic Numinbah Valley near the Queensland-New South Wales border. See the picturesque rock formation, stroll through the subtropical rainforest and have a bush picnic. Underneath the bridge lives a colony of glowworms, tiny stars in the dark.
Natural Bridge is about an hour's drive from the Gold Coast or two from Brisbane. In a day you can also visit more of Springbrook National Park and Lamington National Park, or cross the border to New South Wales parks.
Together, these parks are the heart of the Central Eastern Rainforest Reserves (Australia) World Heritage Area. Tamborine National Park is also close.
Sheltered in a subtropical rainforest, Natural Bridge receives 1500mm of rain during the hot, humid summer. Winter days are often clear, crisp and sunny. Can be cool any time.
Related Links: